Must Know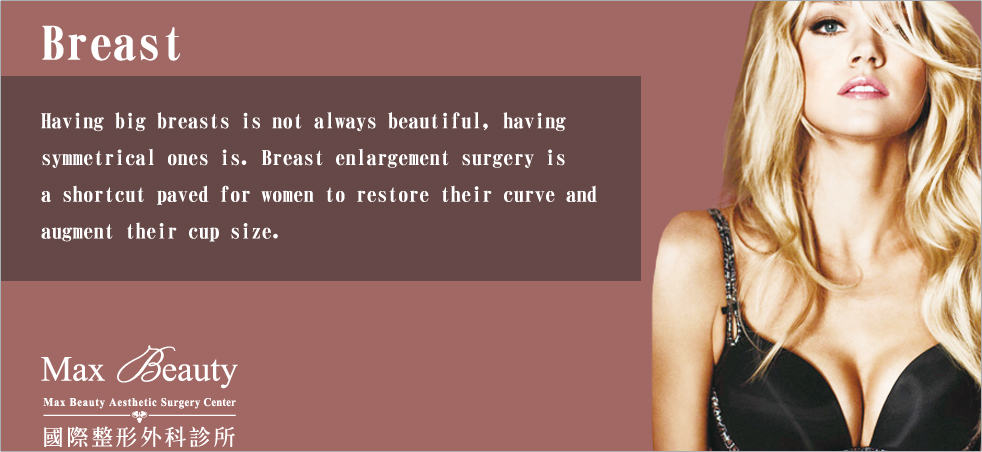 ♦Who Needs

| | | |
| --- | --- | --- |
| Self conditions | Relatively thin/underdeveloped mammary glands and thinner tissues | With breasts and thicker tissues |
| Surgical procedure | Endoscopic breast augmentation below pectorals major | Breast augmentation below endoscopic fascia pectoris and above pectoris major |
| Location of Placement | Below pectorals major | Above pectorals major |
| Advantages | Less prone to contractures-breast implants not easily detectable | With breasts and thicker tissues/those who frequently use chest muscles at work |
| Disadvantages | In case of incomplete chest muscle striping, it may be difficult to form a cleavage. | Breast implants may drop due to absence of pectoris major covering/excessive striping/inadequate support. |
♦ Location of Wound

Caucasians are tall. If an incision were to be made in the armpit, the wound would be too far away from the surgical site, thus resulting in increased surgical difficulty. An incision at the lower edge of the areola or breast or around the nipple is therefore preferred. This hand-down approach gives a direct view of the surgery range, stops bleeding, and gives a clearer view of the pocket peel. In addition, since Caucasians have excellent wound healing, postoperative scars are not obvious. Compared to Caucasians, Asians tend to have poorer wound healing.
♦Breast augmentation incisions generally comprise five types: armpit, ring areola, lower edge of breast, around nipple, and naval.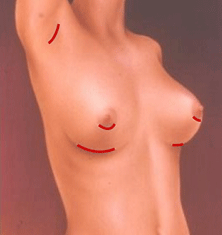 There is a good chance that the wound on the breast will turn into an unsightly scar. Thus, a breast augmentation incision is usually made in the armpit area. Incisions at the areola and the lower edge of breast are less common. Since Asians generally have a smaller thoracic contour, an armpit incision is all that is needed to complete surgery.
♦Advantages and Disadvantages of Different Wound Locations

| | | | | | |
| --- | --- | --- | --- | --- | --- |
| | Armpit | Ring areola | Lower edge of breast | Around nipple | Naval |
| Advantage | Stripping from below pectoris major or fascia pectoris/less destruction on the body/less postoperative pain due to the use of an endoscope. | The scar is not easily detectable as the color is close to that of the areola. | Not felt. | Wound not easily detectable. | At risk of left and right unevenness. |
| Breast implant choice | Saline bag/silicone | Saline bag/silicone | Saline bag/silicone | Saline bag | Saline bag |
| Endoscope use throughout surgery | Yes | No | No | No | No |
♦Breast Implant Material

♦According to surface, breast implants consist of two types: smooth surface and villus surface.
| | | |
| --- | --- | --- |
| | Smooth surface | Villus surface |
| Advantage | More tenderness after surgery; free swings. | Prone to capsular contracture/shorter postoperative massage time. |
| Disadvantage | Require long-term massage | Hardness after surgery/unnatural swings |

♦According to content, breast implants consist of two types: saline solution, jelly silicone:
| | | |
| --- | --- | --- |
| | Saline solution | Jelly silicone |
| Advantage | Affordable, easy to place. | Desirable feel, natural, not requiring replacement. |
| Disadvantage | Undesirable feel, at risk of leakage, requiring replacement in the long run, creasing due to squeezing. | Costly, requiring surgical skillfulness, more smooth after squeezing. |
| In case of leakage | Saline solution can be absorbed by the body although the side will collapse. | Jelly silicone demonstrates excellent self-adhesiveness. No leakage will occur even in case of rupture. |
| Removal | Easy to remove by piercing through the implant to drain the saline solution. Only a small wound is required to remove it. | More difficult, requiring a skill doctor fully familiar with the procedure. |
The saline bag is prone to creasing.

No leakage will occur even in case of jelly

silicone rupture.