Overseas VIP Services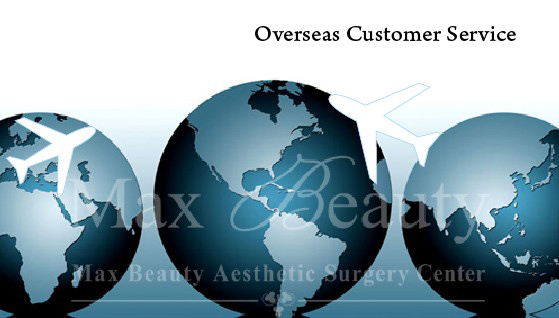 Overseas Customer Service
If you are willing to come to Taiwan performing the cosmetic surgeries during holidays , please realize those items as below before arrival.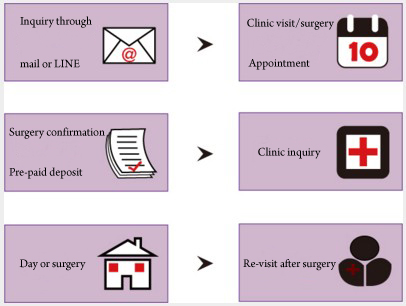 Transportation
At CKS/Taiwan Taoyuan International Airport, you have the following choices to arrive the hotel or the clinic:
The taxi station is outside of the departure lobby. The cost for one way is NTD1000-1200.
We have many buses from Taoyuan to Taipei in the departure lobby, please take number 2060 airport shuttle
bus to Taipei city hall bus station and transfer MRT to Zhongxiao Dunhua exit 4, then walking about 1mins you
will see a CityStar Restaurant in your left hand side, our clinic is on the 7nd floor .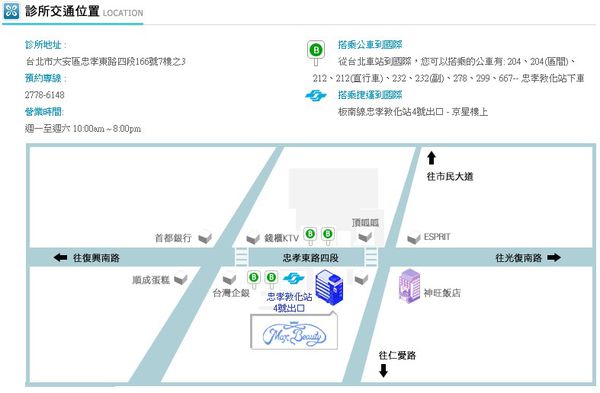 Accommodation
The clinic in eastern Taipei, belonging to the bustling business district near many hotels to choose from, we are
able helping our patients to book hotels Nearby hotels .


| | |
| --- | --- |
| | 3 minutes walking distance |
| | 1 minutes walking distance |
| | 10 minutes walking distance |
| | |
| | |
| | |

Language
Our service staff can communicate with English and a little bit Cantonese If you have any questions, please
call us anytime:

Apointment
You can use the official website contact us manner, Email, Online Customer Service, Facebook, Line or WeChat,
those above ways to make an appointment, or simply call for an appointment . And to inform us your details as
below . Which surgeries would you like to perform (or redo) ? If you don't mind, please explain your further inquiries
to us as well. Personal document included partial pictures (front and side view),surgery history etc .
Our clinic provides
overseas
patients consultation with surgery in one day special services to shorten the number of days of your stay, but
please be sure to confirm your appointment 1 month before to facilitate our preoperative preparation. Once the
surgery date confirmed, confirmation requires to pay 20% deposit of the surgery fee by wire transfer or Paypal
(pay credit card on line) .

Payment
Payment in full before the surgery started is required. We accept currency of NTD,CNY,USD,HKD,JY or MYR. Besides, we
accept
the payment by wire transfer or credit card (visa, master, union pay). If you need information related to this
service,
please give us a call.

Exchange
You could exchange at the foreign exchange counter in CKS/Taiwan Taoyuan International Airport, or in all other banks.
But
local banks are out of service on weekends. If you need the exchange rate information, please go on:

Scenic Spots
Our clinic is located in the most prosperous shopping district. You could take a walk to many shops or
department
stores.