Rhinoplasty with Filler Injection
Rhinoplasty with Filler Injection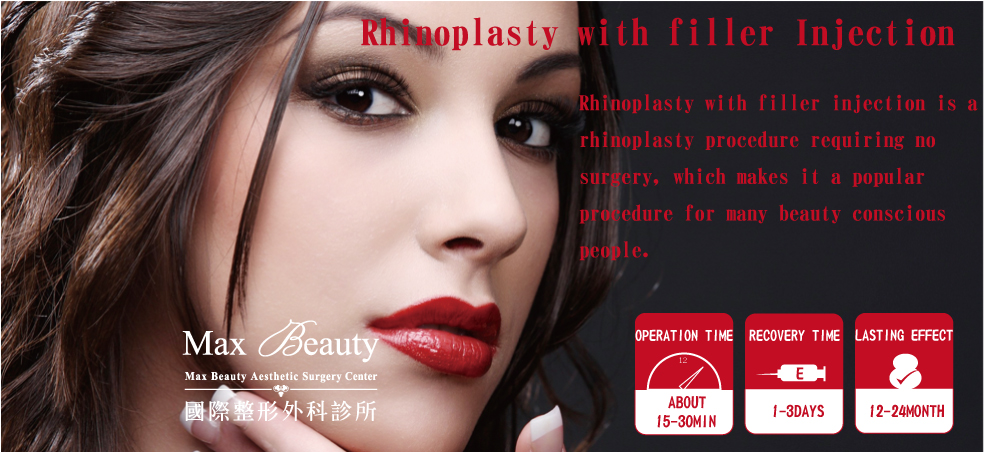 Surgery Features
◆There are man nose lift procedures, of which one is Rhinoplasty with Filler Injection
Rhinoplasty with Filler Injection is a type of nose lift loved by many beauty-conscious people as no surgery is required. Common injection types are: hyaluronic acid, radiesse, collagen, hya-dermis, etc. The most common type in Taiwan is also known as hyaluronic acid, with transparent hyaluronic acid, a natural polysaccharide content in the skin. It can maintain the body's internal collagen. Transparent hyaluronic acid can carry more than 500 times of water, thus the recognition as the best moisturizing ingredient.
◆Materials Used in Rhinoplasty with Filler Injection

Hyaluronic acid rhinoplasty

Collagen rhinoplasty

Radiesse rhinoplasty

Autologous fat rhinoplasty

Material

Hyaluronic acid

Animal collagen

Collagen

Radiesse made up of calcium and phosphorus

Fat from one's own body

Features

Immediate result

Low rejection

Immediate result

Immediate result

Three-dimensional

Almost no rejection

Effect

About 1 year

About 3-6 months

About 18 months

Permanent
Surgical Approach
◆Achieving Effective Rhinoplasty by Injecting Filler into Dermal Tissue of Nose
Cleanse treated siteapply surface anesthesia on treated site and wait for 15 minutesadminister painless anesthesia injection; disinfect treated siteinject rhinoplasty substancesurgeon evenly massages the site after injection and squeezes the injection site to form the desired nose shape.
Precautions
◆
Advantages of Rhinoplasty with Filler Injection
1.Rhinoplasty with filler injection involves injecting and sculpting, which can be completely within minutes. The patient does not feel much pain and the result is immediate.
2.Rhinoplasty with filler injection is comfortable without pain. The injection method is used. Similar to receiving an injection, there is only slight swelling and minimum pain, thus the high acceptance among cosmetic surgery seekers.
3.Compared to costly nose lift surgeries, Rhinoplasty with Filler Injection is relatively more affordable.
◆Disadvantages of Rhinoplasty with Filler Injection
1.Silicone and other artificial materials are likely to trigger tissue reactions and are difficult to remove. Liquid silicone has greater mobility, while silicone and tissue have more close adhesion and do not easily detach, thus the increased repair difficulty.
◆Postoperative Care
1.Avoid contact with the injection site within six hours after injection, during which time gentle cleansing with water and soap can be done and mild makeup removal is allowed.
2.After an injection has been administered, do to stay in very hot or cold places, such as sunbathing areas, hot springs, etc.
3.After receiving hyaluronic acid injection, apply a facial mask to alleviate discomfort.
4.If you are taking aspirin or other similar anti-coagulants, discontinue medication for several days before receiving an injection since the injection site is subject to bruising and bleeding.
Q&A
Q:How long does rhinoplasty with hyaluronic acid injection last?
A:According to introductions by experts from the cosmetic surgery field, hyaluronic acid is also known as transparent hyaluronic acid, one of the human dermal tissues. Rhinoplasty with hyaluronic acid is to inject hyaluronic acid as filling into the nose. The advent of rhinoplasty with hyaluronic acid is that the result is immediate, and the augmented nose appears natural, and no one will ever find out about it. However, it can only last for about 6-12 weeks. For rhinoplasty with hyaluronic acid injection, it is generally recommended that beauty-conscious individuals receive 2-3 injections for each session for more lasting nose augmentation results, about two years. Rhinoplasty with hyaluronic acid has no side effects and is less traumatic.
---
Q:How should I choose hyaluronic acid or radiesse for rhinoplasty with injection?
A:Molecular size not only affects the retention period; more importantly, the selection should be based on the features of the injection site. Generally speaking, radiesse has a more realistic feel and looks like a real nose whether in terms of touch or appearance. However, the surgeon' s skill remains the key when administering radiesse injection. Relatively speaking, hyaluronic acid is a safer material, but the nose bridge made out of large molecules of hyaluronic acid is wider and lateral collapse may occur as time goes by, resulting in the excessive width of the nose bridge and a less realistic look. Nevertheless, an assessment should be carried out to suit personal needs.
---
Q:What is the effectiveness of Rhinoplasty with Filler Injection?
A:The key to Rhinoplasty with Filler Injection lies in the choice of material and the surgeon's aesthetic sense and skill. Rhinoplasty with Filler Injection is generally sticky. After being injected into the skin tissues, the surgeon's skillful hands are needed to sculpture the nose. Therefore, the surgeon's aesthetic sense is crucial for achieving best results. Through the surgeon's squeezing and sculpting, the injected filler will be evenly distributed in the skin tissues of the nose. After sculpting, the injected sticky substance will gradually harden, thus creating the most natural augmented nose.